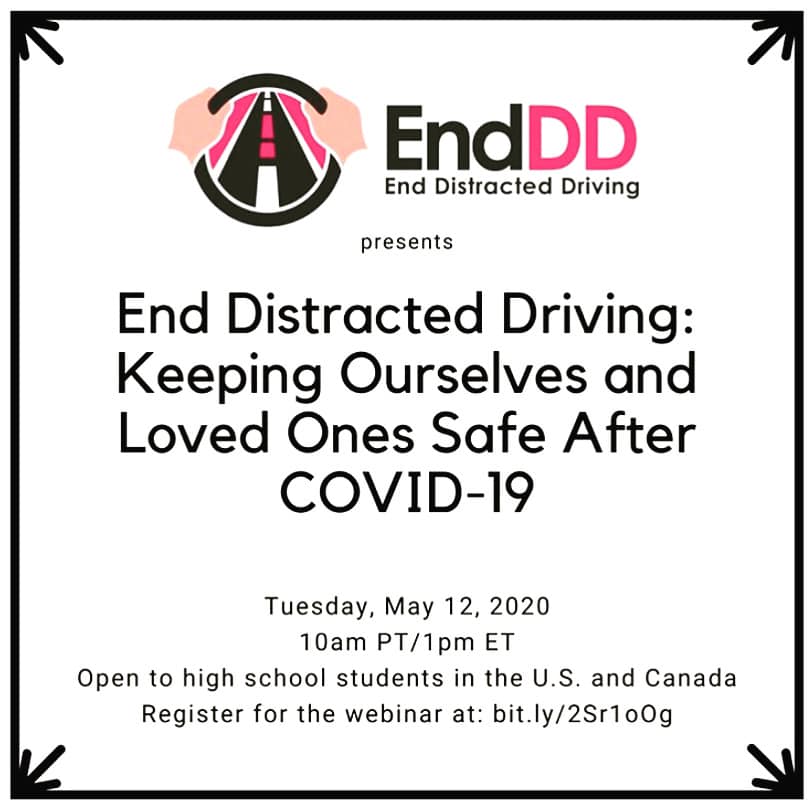 Distracted driving is a tragedy that impacts us all. In turn, we all have the responsibility to do our part to end it.
In 2018, the Canadian Council of Motor Transport Administrators reports that:
Younger drivers (aged 25 and under) are more likely to be observed using an electronic communicative device than older drivers;
One study of teen drivers indicates that approximately 65% self-report reading or sending a text while driving in the past 30 days and 30% have checked a website or social media account while driving; and
Over time, the percentage of fatalities and serious injuries involving distracted driving has been increasing in Canada.
This is a serious concern for Canadians.
ENDDD.Org
EndDD is an organization that has set out to end distracted driving. This organization was founded in loving memory of Casey Feldman who was struck and killed by a distracted driver in July 2009. Casey, a pedestrian, was crossing the street at a crosswalk during daylight hours at an intersection with 4-way stop signs. Casey was struck by a distracted driver who was looking away from the road while reaching for an object.
EndDD's mission is to save lives from distracted drivers through advocacy, education, and action.
EndDD strives to achieve its mission by reaching out to the community and providing science-based distracted driving presentations, giving talks to over 475,000 students nationwide at no cost, providing free educational materials and, designing presentations for parents to help them model distraction-free driving for their children.
How You Can Keep Yourself and Loved Ones Safe After COVID-19
Each year, trial lawyers around the U.S. and Canada visit their local high schools as EndDD volunteers and deliver end distracted driving presentations to students. As a result of the COVID-19 pandemic, this has not been possible. Now, EndDD is committed to furthering its' mission by working with Zoom Video Communications to broadcast the presentation as a webinar online.
If you are passionate about ending distracted driving, please join us for a webinar on May 12, 2020 at 10am PT/1pm ET via Zoom Video Communications to learn more about how we can end distracted driving. The webinar, entitled, "End Distracted Driving: Keeping Ourselves and Loved Ones Safe After COVID-19" will be hosted by Joel Feldman, founder of the nonprofit EndDD.org and partner at Anapol Weiss. The webinar topic will be education around ending distracted driving, particularly ahead of our country's return to normalcy post- COVID-19.
Register Today
Please visit https://www.enddd.org/ for more information on how you can help end distracted driving.
If you or a loved one have been a victim of distracted driving, please contact our offices for a free consultation.