Toronto Auto Accident Lawyer
Maximize Your Compensation with Jewell Radimisis Jorge LL.P.
There are countless accidents that occur on the road each year. Car accidents often cause serious injuries, damages, and can be fatal. Sadly, many of these accidents are due to the negligent or reckless behavior of another individual.
Advantages Of Hiring Our Legal Team
24-hour emergency hotline
Free case consultations
55+ years of collective experience
Proven track record of success
Creative & customized legal counsel
You don't pay us unless we win
We're fluent in multiple languages
With over four decades of combined experience, our Toronto auto accident lawyers are fully equipped and qualified to handle your case. We are attentive to our clients' needs, and will work closely with you in order to understand and build your personal injury case. Our goal is to help you obtain the compensation and accident benefits you deserve.
Steps to Take After a Car Accident
Immediately after a car accident, you may be shaken up or confused. The first and most important step to follow is informing the police. You should make sure that the police have been made aware of the accident, especially if anyone involved has sustained injuries. It is important that you document as much of the accident damage as possible, by camera or phone. The police or Collision Reporting Centre will ask you to complete a report, which may be used later on in the claims process, so it is important that all information and injuries are listed.
You should also try to do the following:
Exchange Driver Information
Document Details of Accident
Visit Family Doctor
Keep All Receipts Involved
Write Down Witness Information
Enlist Legal Counsel
Notify Accident Benefits Insurance Company
The Most Common Types of Car Accidents
Following your accident, you will only have seven days to officially notify the accident benefits insurance company. This means that you will need to act quickly after your accident, seeking our legal counsel as soon as possible. If you decide to file a claim against the at-fault driver, you will also be facing time restrictions. Our skilled Toronto car accident lawyers are here to help you build a strong case to obtain the compensation you deserve.
Get Started With A Free Consultation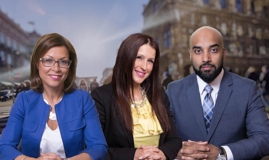 We are selective with our cases and only take on serious issues. If you have been injured in an auto accident, be sure to contact our firm today. We will provide you with the personalized legal solutions and compassionate support that you require at this time.
You may be entitled to the following benefits:
Medical & Rehabilitation Costs
Travels Expenses
Home Maintenance Needs
Lost Work Income (Up to $400 a Week)
Future Care Costs
Lost Education Expenses
Maximize your compensation through legal strategies that are specifically tailored to your case. Contact our firm today, for a free consultation. You don't pay until we win.